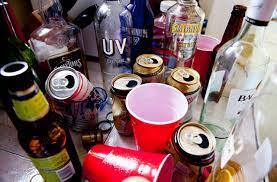 Sometimes the genesis of a poem is an innocent but memorable remark someone once said to the poet. Many of my poems come into the world this way.
For instance, "The Morning After," which appears in my new book Reincarnation & Other Stimulants, sprung from something my mother once said the morning after a party at our house. She woke up, came out into the kitchen where my brother and I were eating cereal, saw all the liquor bottles still on the counter, and asked us to put them away.
But it's the words she chose that struck my young mind and lingered to the present day. The words had to out somehow. They chose poetry as a way to do so.
Here's the poem I wrote to recollect that moment. It originally appeared in South Florida Poetry Journal.
The Morning After
by Ken Craft
The kitchen ceiling is a soft cirrus of cigarette smoke,
and the white globe light Mom loves glows like a full
gaseous moon. Below, a table of highball glasses, cards,
coin kitties, napkin-bedded baskets, chips and Chex mix,
ashtrays of butts bent 90 degrees, some ringed with lipstick,
some slipped off the edge. Sounds tinny and thin through
the tube of time: radio jazz, Kennedy halves, quarters
sliding like silver pucks across polished wood. In memory,
hours and minutes sprint by, stopping only for Sundays. Talk
and laughter grow louder as we grow little-kid groggier, falling
asleep in our beds up the hall, dreaming of family, friends, and
neighbors who never grow old and never feel pain and never die
of lung cancer or cirrhosis of the liver or, God save us, natural
causes. In memory, we eat Trix or Cocoa Puffs or Frosted Flakes
as Mom comes out of her room in a housecoat Sunday morning.
She's squinting against a sunrise of empties and glasses half-filled
with dead ice, the accordioned remains in ashtrays, the wounded
bottles of liquor, brown and green and clear. She's turning back
for the refuge of her room, saying: "Boys, could you put the bottles
away for me, please? I can't stand looking at them in the morning."