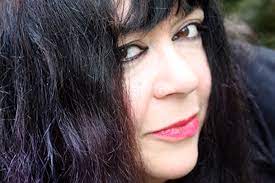 Diane Seuss, whose element is poetry, has found a more refined element still. Sonnets. Or at least something sonnet-like. In her new book, frank: sonnets, she delivers a generous serving of poetry stretching 130 pages long. Not something Petrarch or Shakespeare would recognize, but sonnets nonetheless, at least by modern standards, where poetic licenses can be had with a quick visit to town hall (bring your driver's license).
What makes a Seussian sonnet? Fourteen lines, mostly. In an interview, Seuss says she holds somewhat to the meter and rhythm clause, too, which is visually evident on each page, what with the line breaks staying close like sled dogs under the command, "Mush!" Voltas can be found, too. It's Italian for "turn," and signals a change in the poem's direction.
Beyond that, though, the sonnets show little resemblance to what we were force-marched through in school. But boy, do they go down easy. Voice in spades. An easy style. A way with words. Each sonnet is double-spaced. Each shows a special knack for naming things – choosing the right specific nouns to help readers visualize just so. Sound devices, too, like alliteration, assonance, consonance. And yes, everyone's favorite: metaphor in abundance, like roadside daisies.
The design is memoir-like. Seuss mines her past, her childhood, the death of her father. It moves on to her own coming of age, a relationship with a man named Kev, the birth of a child named Dylan. And the man on the cover – Mikel Lindzy – a friend of Seuss's who would be lost to AIDS during the 80s, plays a role in some poems, as does a man named Frank who makes cameos, too.
If you must know what it's about, I'd say "life," which translates to "pretty much everything." To quote Traci Brimhall's blurbed list: "poverty, death, parenthood, addiction, AIDS, and the 'dangerous business' of literature."
Raw? At times. Bittersweet? That, too. Wry and funny? Yes. In short, the narratives and the voice in these sonnets win readers over and make of the them a willing confidant. What's more, as is true with all good poetry books, once you finish you need not feel lonely (another theme, by the way). You can dive right back in. There are a lot of pearls on the ocean floor, after all, and sometimes you see new and better ones the more you dive.
You don't have to be from the Show Me state to crave examples, so I'll offer two no matter what your state of mind. They will give you the gist, I think, and if you're like me, you'll like what you see. For that matter, if you're like me, you'll say this is one of the stronger poetry collections you've read in 2021. And finally, if you're like me, you'll rejoice at the rumor that Seuss plans to write another collection of sonnets in the near future.
Like I said: Diane Seuss, whose element is poetry, has found a more refined element still. Sonnets.
All things now remind me of what love used to be. Swollen cattails in lonely
places. Gluey conditioner in my hair. Firm books. Their variegated spines.
Swirl of words like a stirred cocktail, whirled umbilicus, pulsing asterisk.
The past is this: to have been young and desirous and to be those things
no more. In the future the cattails will explode without me. I pray they will
not go unseen. Who will ride the cemetery horse? Incorrigible blond forelocks
blowing in their eyes. The present tense: to take a loveless path is to court
a purple-blue emptiness, like a disco or a grotto. Or the cave where dead bodies
are stored in the winter, when a shovel can't break through frozen ground.
I have seen such spaces. I have been alone in them. Sound of water lapping.
Animals calling to each other. Echo of my own breath. Smoke pouring
from my mouth in the cold. Memory, interloper in the corner who means to kill,
heavy rock in its hand. And poetry. This poem right now. This one-night stand.
I fell in love with death, he isn't mean, his kisses wet and sweet.
Broken pocket watch, strange chain, like an extra in a Western
who appears at the edge of the screen perched atop a lame horse.
Thinness at the hips, the incubator of is breath. Mother tongue
in his mouth. Kinky, but in the most earnest, heartfelt way: he
sucked my fingers while I read him Peter Pan, itself a children's book
about dead children. His only perversion is innocence, doesn't try
to ruin Christmas but ruins it anyway, young uncle in the disturbing
T-shirt who just can't get into the spirit of the holiday. Try, some
female relative whispers in his ear through her lipstick, just try.
He wipes away her kisses, disingenuousness not in his repertoire.
Can't fake it. If his eyes are hollow it's because he's feeling hollow.
If he's in the mood he calls me at twilight from some meadow,
Describes how the sun digs its own grave, the copper afterglow.