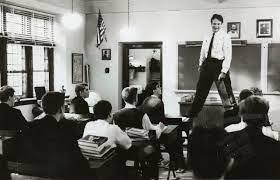 Ask any librarian or bookstore owner. The aisle (or Dewey Decimal number) less traveled by is poetry.
Why is that? You would think that readers would love to read all types of books alike — fiction, essays, history, drama, memoir, and poetry.
That's how it starts, anyway. After all, little kids love poetry. They're nurtured on Mother Goose's nursery rhymes, children's song lyrics, Dr. Seuss's word play. But by the time they reach middle school, the love is all but gone. What happens?
There's no lack of theories. Some lay the blame at English teachers' feet. As Billy Collins once wrote in "Introduction to Poetry":
…all they want to do
is tie the poem to a chair with rope
and torture a confession out of it.
They begin beating it with a hose
to find out what it really means.
By this theory's logic, teachers "ruin" poems, either by selecting inscrutable works or by making it work instead of fun to read. Thus we have teachers as keepers of the keys to meanings, while kids are left to play a dreary guessing game.
"Why don't poets just say what they mean?" victims of this game might say. "Why aren't kids intrigued by a poem's unique slant on old truths?" an admirer of poetry might respond.
Matt Zapruder, poet and professor, has an idea. He thinks readers — including young people — need only one tool to fully understand poetry: a dictionary. Yes, online is fine. And no, not just to look up words they don't know. Words they know, too. Especially common words with multiple meanings because, in poetry, words work in mysterious — dare I say "often very cool" — ways. Sometimes definition #8 works better than definition #1.
When a reader of poetry is intrigued like a detective who wants to solve a mystery or advocate for a particular meaning, it's a new ball game. Poetry isn't being "done to them." They are "doing poetry." The whole scenario is flipped. Both control and motivation is given to the reader.
Couple this with the appropriate selection of poems for each age group, and the situation shifts. Ditto adults. Every topic is fair game in poetry these days, and there's a voice that will resonate with readers of every taste — if given the chance, of course. If readers who "left" poetry are willing to jump back in. And if they're willing to mix it up and appreciate that reading poetry offers rewards both similar to and different from prose.
Next newsletter: How reading poetry is different from reading prose, and how it benefits the brain the way aerobic and anaerobic activities complement each other in exercising the body.
WHAT I'M READING
The Plot by Jean Hanff Korelitz
This is that rare book that handles both plot and characterization well. Diving into the publishing world, it tells the story of a writer/teacher who takes a student writer's idea and runs with it. When it becomes a bestseller, he starts to get mysterious messages accusing him of plagiarism. It's a quiet psychological thriller that Stephen King or Alfred Hitchcock would fancy. Book lovers will, too.
The Anthropocene Reviewed by John Green
Green, the heralded YA author of such books as Looking for Alaska and The Fault in Our Stars, takes a different turn with these mini-essays based on a podcast he does with brother Henry. Fans of trivia — and, let's be honest, knowledge — will savor his quick forays into such disparate and odd topics as Halley's Comet, Lascaux Cave Paintings, Piggly Wiggly stores, The Yips," "Auld Lang Syne," etc.) or, because of his expository efforts, became somewhat the QWERTY Keyboard, and the film Penguins of Madagascar. Like those rare teachers we remember best from school — both fun and entertaining — the book satisfies in 3-5 page morsels. Tasty!
Kontemporary Amerikan Poetry by John Murillo
Fans of narrative poetry that not only embraces the present moment but the history of Black experience in America will appreciate Murillo's conversational free verse that recounts various episodes from his life and others in his circle of friends and family. The highlight of the book is a strong set of sonnets (Petrarch and Shakespeare need not apply) in the center of the book, each 14-liner going to the heart of America's social woes from different angles. Thought-provoking stuff!